What forms the perfect boat? Is it fast? Roomy? Safe? Sleek? Varnished wood toe rails and acres of teak? One hull, two or even three?
The design.
When looking for a sailing boat there are so many things to consider. I started narrowing the search by looking for well renowned yachts around 45-50 feet. Much smaller than that and we'd be a little cramped. Any bigger and the forces involved would be too much for Chloe or I to handle.
Paramount was the ability for either of us to handle the boat ourselves. With two young children on the boat, one of us will be single handling while the other makes sure the kids are safe.
I had noticed Amel's early on in my search. When I showed Chloe, "oh, that's ugly", was the reaction and she wrote them off! We then focused on the Hylas 47 and Hallberg-Rassy 46. It was only after we watched more of SV Delos' amazing youtube videos that Chloe started to come around. And once we managed to experience an Amel ourselves, we were convinced. It has (some!) space, but feels like home. The galley/saloon open plan so the cook (Chloe!) isn't down in some dark tunnel. The boat has an amazing reputation for being safe. And last but not least, there are a lot of them with prices within reach.
The search
Once we had narrowed down to a make/model of boat, I could start my research in earnest. The Amel Super Maramu has been manufactured for a long long time. Each year would bring improvements, some small and some large such as new battery configurations or engines. We can't afford the latest model. But looking at the early 2000 boats and we're starting to balance to the cost/features tipping point. We're missing a couple of luxuries, but nothing practical.
Now I know the model and a rough year... time to hit Yachtworld and compare boats. The listings are terrible. Missing vital information, two blurry photos, brokers that don't respond to simple emails. I'm not buying a kettle on Craigslist, we are talking about a $200-400k and the safety of my family! In my next life I'm going to be a yacht broker... It's not hard to take a half decent photo, even with a phone. Anyway...
This phase of the search took a long time. I expect I spent a year looking at listings on yachtworld. Trying to gauge the market, find boats that were decent deals, with various configurations of extras. I finally found one... this one: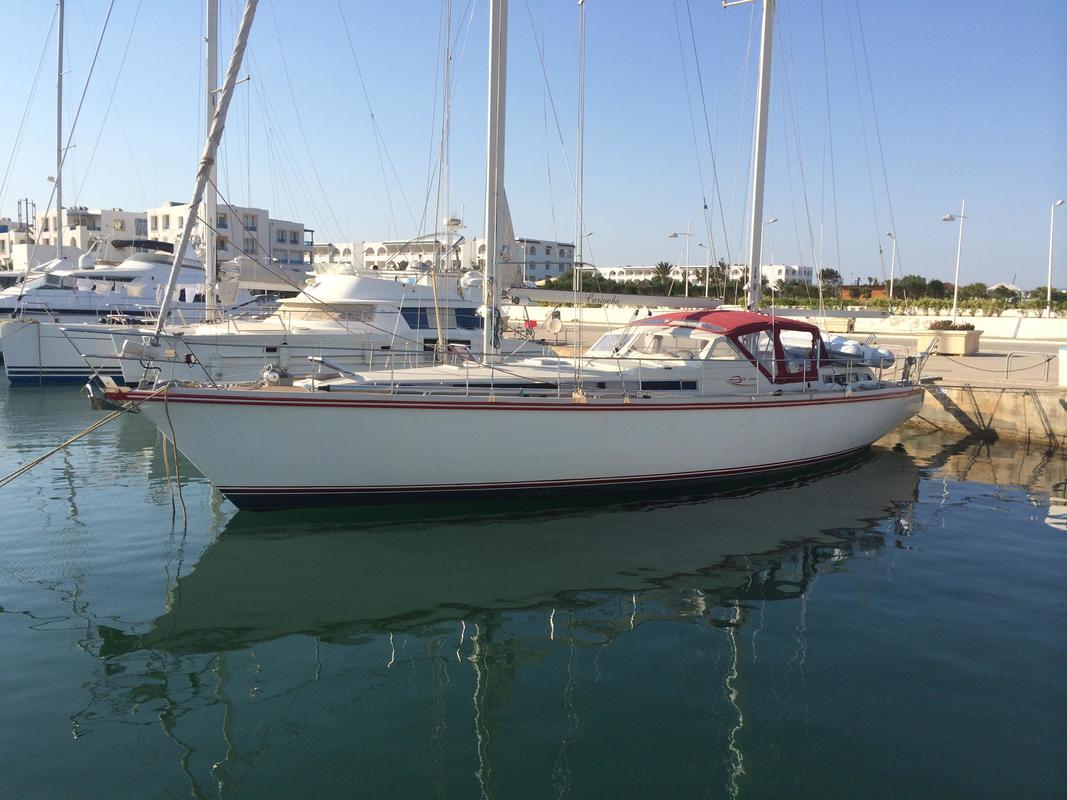 Isn't she pretty? We thought so too. We sent my Mum to Hammamet, Tunisia to take a look:
A glowing report came back and we made an offer. It was a fair offer... but sadly the owner, rightly or wrongly, didn't accept. I believe this was, in the end a good thing. Since then we've learnt even more and have an even better idea of what we want.
One we got back to Europe our boat search started in earnest. Within a week I flew to the Netherlands, the south of France twice and Lisbon. I just went to see all the boats we were considering. Some of them were awful; rotting plywood, rusting engine rooms, mouldy sails. After this experience, when I started to see "good" boats, I knew within minutes.
Which is how we get closer to the end of the search, right? On one of the trips to the south of France I met with Michel Charpentier. He is the foremost broker of Amel's in Europe and makes a point to only represent worthy boats. I have to assume he has learnt that it's no fun wasting his and everyone else's time with bad listings.
He showed me two prospective matches to our criteria. Both with asking prices out of our budget. The first was one that had been modified with a fancy hydraulic gang plank (usually a bit of wood to get you to solid ground when moored stern-to) and a stay sail. The extra sail might be interesting to a racer, but to us... it just gets in the way. And the fancy gang plank meant another system to look after and strange hole in the stern. I'm not keen on holes in boats.
The second, is a plain vanilla Super Maramu, no fancy or racing additions. Just a very nicely looked after one from 2002... we made an offer. One that was reasonable but on the lower side. The ace up our sleeve was the yacht in Lisbon, which is a slightly older boat but meticulously looked after, was within our budget. We would happily live on either.
Can you guess what happened yet? The owner said no. Which is fair enough... but with a little prodding from the broker and letting him keep the dingy and outboard, he's accepted!
The boat is under contract and we have the survey organised for the 29th of January... cross your fingers for us that it goes well.